Workshop Secrets Masterclass
Stop being INVISIBLE and SCALE your coaching business by running your own fully booked workshops and events. Discover how you can leverage and monetise from your following while putting yourself as the go-to expert in your niche.
Coaches Community
Join other like-minded coaches and experts in our exclusive Facebook Group Community and learn how you can grow your coaching business from 1:1 to 1:many. 
Discover tips & strategies from Francesca Moi herself for FREE
Sold Out Business Academy Resources
Exclusively for Sold Out Business Academy Members are some brand new resources to help you become invincible!
STOP BEING INVISIBLE AND START BEING INVINCIBLE!
Struggling to fill your workshops or online webinars CONSISTENTLY?
Are you an online coach or consultant looking to fill your online course or develop a mastermind?
Do you need to grow your following so you can get fully booked with one-on-one clients?
Or maybe you are already fully booked with clients and you need to grow and scale your business so that you can leverage your time with a one-to-many strategy?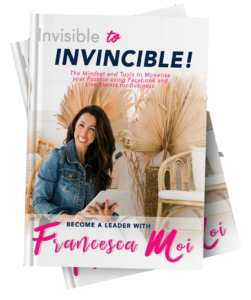 Some of our Sold Out Business Academy Clients