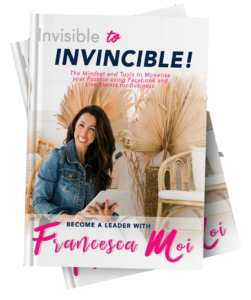 Invisible To Invincible
$30.00
Follow Francesca's strategies in her book, Invisible to Invincible, and you will be able to use your passion to scale your business.
Her strategies help business owners and experts go from having no following online to building their own communities and monetising from it.
Become a leader and go from Invisible to Invincible!
Francesca knows we all have a purpose and mission in life, which is to give, love and contribute to others. Her organic strategies encourage her clients to do just this. It's time to overcome your limiting beliefs and discover the importance mindset has in how successful your business will be.
What this book will teach you
"Invisible to Invincible" will walk you through each step towards being Invincible. If you follow her strategies and each step thoroughly you will be able to achieve similar results
In this book you will learn how to:
Refocus your mindset for success by being okay with taking risks, failing and feeling worthy of success.
Show up for your friends, family and the community so you can leave a lasting legacy.
Narrow your marketing funnel so you can attract your ideal audience.
Stay invincible in every area of your life by using your business as a tool to make the world a better place.
Increase your social proof and how to leverage from it.
Francesca Moi has learned the secret of passion and how not to following the money. Follow your passions, which leads to greater prosperity and fulfilment! Fantastic read! Real examples for real people.
WILLIAM FARMER 
Francesca writes with such passion and authenticity that it is easy to get lost in the pages. Her honesty and vulnerability are evident as she shares her journey of how she turned her life around from self sabotaging and wanting to hide, to a woman who is a motivated, passionate action taker. By way of implementing practical steps, she helps you to break through your limiting beliefs and to step out of your comfort zone to find your passion and live life on your terms. Francesca is definitely a woman who walks her talk and she will teach you to do the same.
Alison Felton
What a great insight into the journey that is responsible for the force of nature that is Francesca Moi. FM has such a passion and enthusiasm for helping people to live their lives on purpose, doing what they love and her inspirational mindset is contagious. I am grateful to have her as my coach, mentor and friend and one of the best things about her guidance is that she believes in you even when you may be beginning to have your doubts. I would recommend this book to anyone who has ever lacked self-belief and is wanting to take the plunge into a life filled with passion, power and purpose. Well done Francesca, as expected pure authenticity, passion and grace.
Sam Bowker